The Queen - Black Diamond, Emerald, and Citrine Beaded Waist Chain / Beads - is a luxe momentous gift, whether it's a birthday or anniversary, or the birth of a child. This unique one-of-a-kind beaded hip chain will be customized to you. Everything about this shiny belly chain is high quality. It's loaded with charms that can be personalized to you. Your waist bead can be made similarly or with natural gemstone beads of your choice, customized just for you. You can have yours made with or without verbiage, or with or without charms.
As a woman, mom, and designer, of Luxury Body Adornments, my favorites are Waist Beads. I decided to make this queen waist bead to represent my journey as a mom of now two adult children. Whom I love and I'm grateful to be their ma/mammy. I am very proud of them, as I am of myself. Honoring our journey of growth.
I became a mom before I became an adult. Thirteen years later I became a mom again before I knew my needs, feelings, and wants were valid because I thought them to be. Before I knew I could trust myself to make the right decision for myself.
My journey is worth me honoring, With these waist beads I'm honoring myself being a woman and mom. I'm a survivor that has scars that deserve to be honored as well.
~ Queen
QUEEN - Black Diamond Represents The Grounded Foundation. Emerald ~ Son / Citrine ~ Daughter
This luxurious waist chain's exorbitant price reflex the superior components used to design your contour waist chain.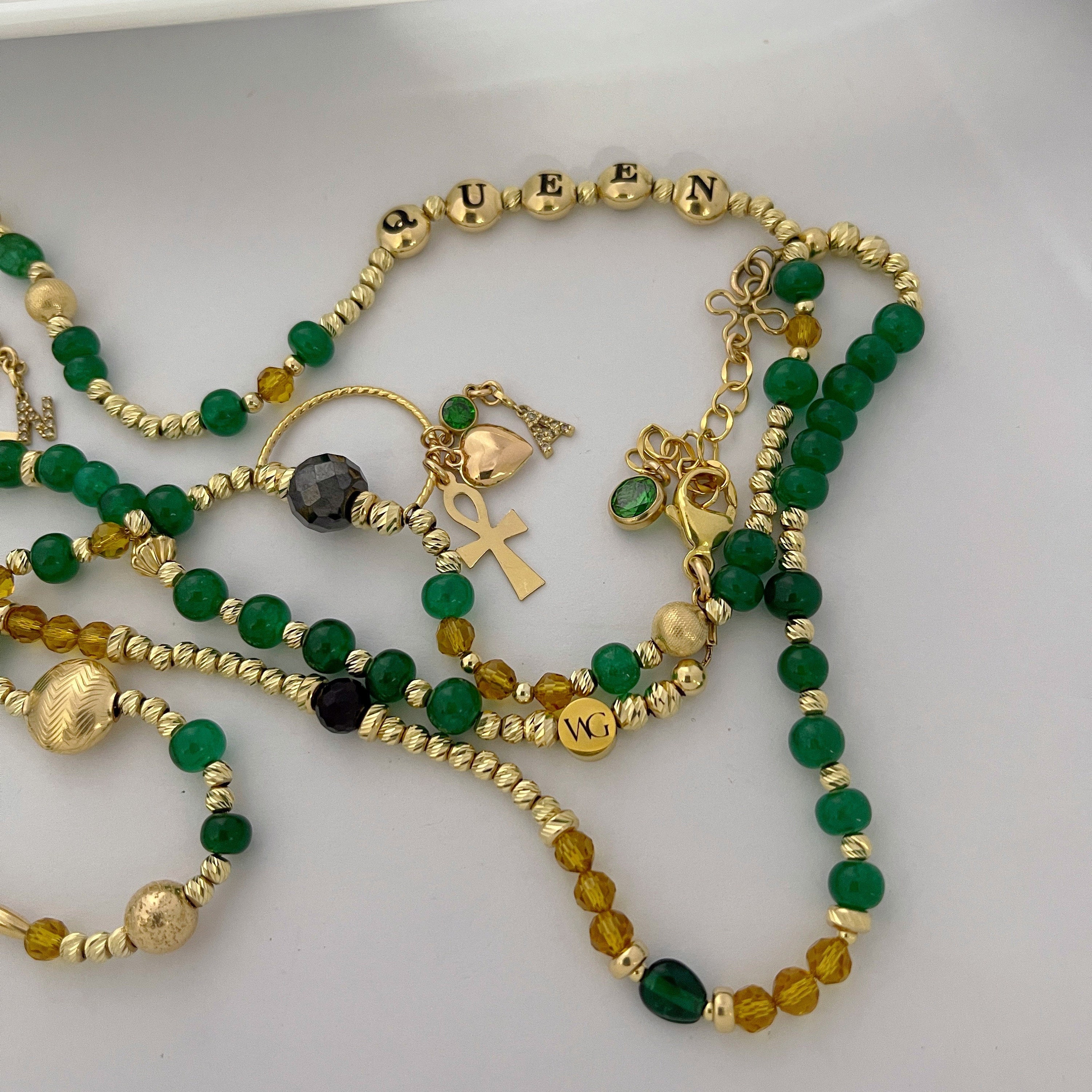 Your crystals will be top-quality beads, hand selected, and purchased by the bead as most superior gemstones often are. Putting an emphasis on the quality of the gemstones used to make your waist bead. Have confidence that your gemstones will not be purchased by the strand from a big box store. The gold beads will be only of the highest quality available medium and heavy-weight beads. Charms, Beads, and Findings may also include diamonds incorporated in their design.